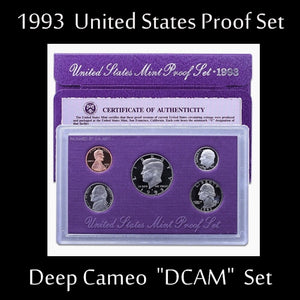 1993-S, United States Mint, 5 coin Proof set
Regular price $15.95 $12.95 Sale
You are purchasing an Authentic 1993-S, United States Mint, 5 coin Proof set, in it's official government issued protective holder.

The 1993-S United States Mint Proof Set contains all 5 coins shown in a DEEP CAMEO (DCAM) finish, displayed in their official US Government protective case. Each coin bears the "S" mint mark of the United States Mint at San Francisco.

Note: Some shading or darkening of coins may occur, as metals oxidize with age, this is known as "Patina" and doesn't affect the value. Additionally, toning or "Rainbow Toning" may also be present, and while this also doesn't change the value from a graded standpoint, some collectors pay a premium for this rare condition!

The 5 coins included in this set are:

Kennedy half-dollar
Washington quarter
Roosevelt dime
Jefferson nickel
Lincoln cent

These are an easy way to start a coin collection for someone special!